Records Disposition Document (RDD) E-Form Instructions
Prior to the destruction of any document or group of documents at FIU, a RECORDS DISPOSITION DOCUMENT (RDD) must be completed and approved by the Records Management Liaison Office (RMLO).
TO SUBMIT A NEW REQUEST: Click on the tab [E-Form Information & Instructions] above and select from the drop down menu: Submit eRDD Form to begin filling out a new form.
STEP 1
Login in with your FIU MyAccounts username and password to access the form.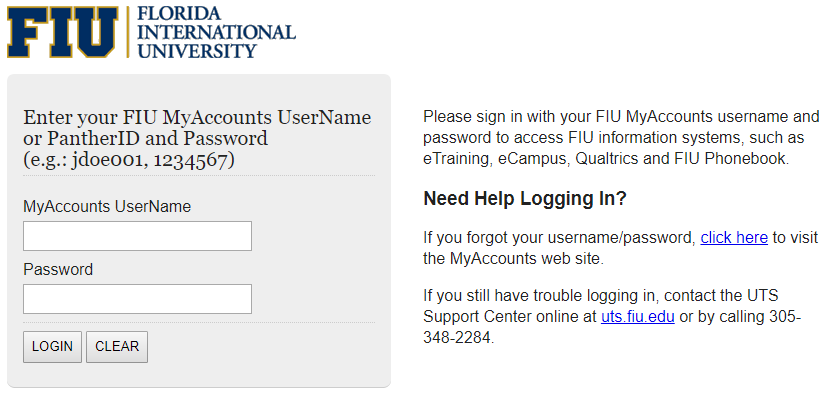 STEP 2
Begin by checking the box "Show Instructions" on the upper right corner of the form to see the Records Disposition Checklist:

The Checklist will give access to the General Records Schedules which will provide the retention periods for a wide variety of records; that is, how long offices need to keep certain records. Each type of document has an Item number assigned to it. Assuming a given office is holding several types of documents to be considered for disposal, an Item number for each type is required.
While all types of state departments are represented on this list, most University offices will find item numbers related to academic records in the General Schedule GS-05 (for Universities and Community Colleges); and general administrative or fiscal item numbers will be in the General Schedule GS1-SL (for State Government Agencies).
STEP 3
Once a list of records is ready to be added to the form, begin filling ALL the yellow highlighted fields.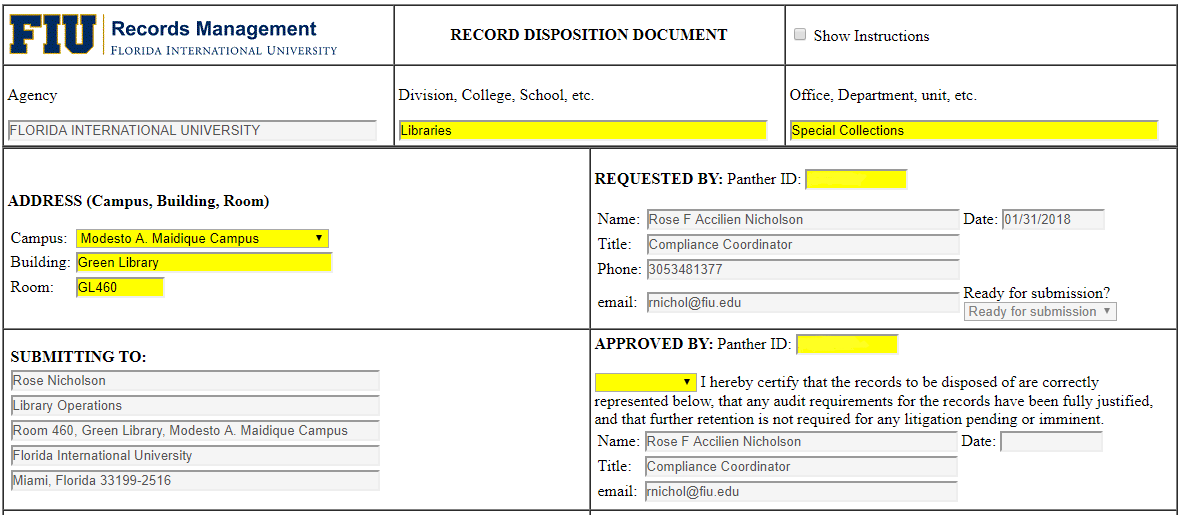 Select the notice of intention from the dropped down menu:

STEP 4
Filling out the LIST OF RECORDS SERIES will require the use of a record schedule as discussed in Step 2. Each type of document contained within an office is represented by an Item number which is found by matching the documents in question to the title and description contained within the record schedule that best matches that document type. For example, if an office had a large accumulation of instructor evaluations and would like to request destruction on these documents, a match can be found within the GS-05 Schedule as follows: According to Schedule GS-05, "Instructor Evaluations" are referenced by the Item number 68 and have a retention period of 1 semester after submitted.
Some useful tips when attempting to find satisfactory descriptions for document types:
Use the "Find" command (CTRL+F) in Microsoft Word or Adobe Acrobat to perform keyword searches. (for example the word "payroll" or "evaluations")

Schedule GS-05 is better suited for describing documents that are academic in nature, while GS1-SL can be used more effectively for general state office documents.

If a match proves too difficult to find, you may contact us for assistance at 7-1377 or recordsmanagement@fiu.edu
Using this information, fields a through d can be filled out as follows:

Field e "Inclusive Dates" contains the total range, by year, of the documents in question. This range must be within the respective retention period for that particular item. NOTE: If retention period indicates 'Fiscal Years' (FY), be sure to enter the dates from begining of the fiscal year July 1, YYYY - to June 30, YYYY. For example (1 FY = 07/01/1965 - 06/30/2020). If retention period indicates 'Anniversary', be sure to enter the creation date of the records. For example (1 Anniversary year = 09/22/1965 - 08/12/2020).
Field f contains an estimate of total volume in cubic feet or MB or GB of that item type. In this example, 3 GB (for electronic records) is listed.
For Paper records, use the following formula:
Volume = length × width × height (of boxes or documents)
Eg. Standard archival boxes are 10 x 15 x 12" = 1800 in3** This value must be converted to cubic feet (ft3).

1800 /1,728 = 1.042 cubic feet in volume.
Multiply this value by the number of boxes to give the total volume of documents.
Eg. 10 boxes = 1.042 x 10 = 10.42ft
This is only an example for converting cubic inches to cubic feet. If your box has different dimensions, you must calculate the volume of the individual box first. If the documents in question contain more than one item type, write them in a list as shown in the example below. Only one item number per type of document is required. Although it is sometimes the case, it is rare that a disposition document will take more than one page. After the form is completely filled out, scroll all the way down to click on "SUBMIT"

STEP 5
The form will be verified for accuracy by the Records Management Liaison Officer (RMLO), then sent to the Archivist for archival value review. Once cleared from the University Archives, the form will be sent to the Office of the General Counsel, and the Office of Internal Audit for authorization. After a final verification by the RMLO, the disposition document will be sent to the original sender for physical disposition action.
Upon receipt of the eRDD, all requested documents may be disposed of by shredding, recycling or deleting the records within 90 days. A reminder will be sent to the requestor, after 90 days to complete the actual physical destruction. For large volume of records, the Custodial Services may be contacted at 305-348-4630 for assistance.
When all documents have been destroyed, field g. must be filled out. Only enter the method of disposition as in the example below.  The stamped date is entered automatically.

Select "YES" for the DISPOSAL CERTIFICATION section and SUBMIT the form.

Please direct any questions about the forms or records management to:
Althea "Vicki" Silvera
Department Head, Special Collections and University Archives
Silverav@fiu.edu or 305-348-3136
For technical assistance with the links or while accessing the form, please feel free to contact the ImageNow Technical Team at 7-7472 or johnv@fiu.edu.