Records Disposition Instructions
Prior to the destruction of any document or group of documents at FIU, a RECORDS DISPOSITION DOCUMENT (RDD) must be filled out and sent to GL 460.
NOTE:  We are in the process of migrating from paper to digital disposition requests.  The paper RDD will take approximately 2 – 4 weeks to process.  Whereas, the digital/eRDD will take approximately 1 – 2 days to process.  Please proceed to the tab Electronic Disposition Form to complete a new eRDD.
This page will no longer be accessible as of December 31, 2017.
---
STEP 1

Download a copy of the most recent record schedule from the State of Florida.  This can be downloaded here:

These documents contain the retention periods for a wide variety of documents; that is, how long offices need to keep certain records.  Each type of document has an Item number assigned to it.  Assuming a given office is holding several types of documents to be considered for disposal, an Item number for each type is required.

While all types of state departments are represented on this list, most University offices will find Record Schedule GS-05, Universities and Community Colleges and GS1-SL, State Government Agencies the most appropriate.
STEP 2
After downloading the necessary record schedule, a Record Disposition Document is required.
Boxes 2,3,4,5,6 and 8 on this form are to be filled out with the appropriate data, as illustrated below: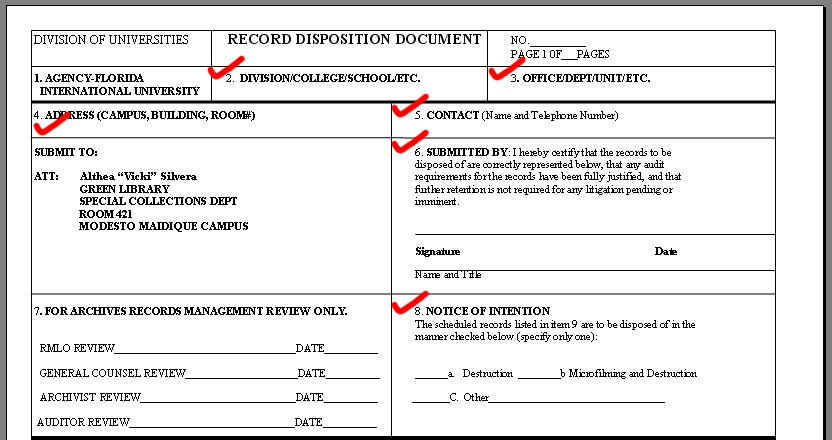 STEP 3
Filling out box 9 requires the use of a record schedule as discussed in Step 1. Each type of document contained within an office is represented by an Item number which is found by matching the documents in question to the title and description contained within the record schedule that best matches that document type.
For example, if an office had a large accumulation of instructor evaluations and would like to request destruction on these documents, a match can be found within the GS-05 Record Schedule as follows: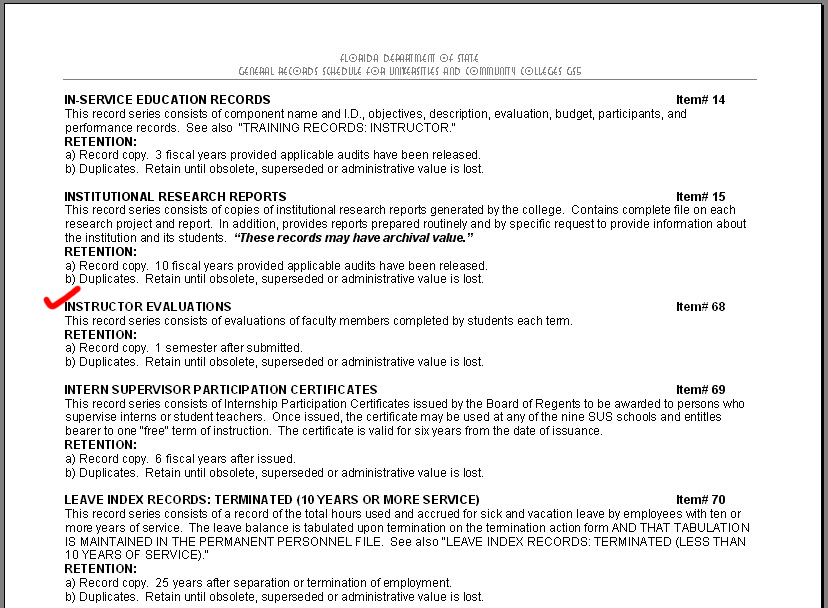 According to Schedule GS-05, "Instructor Evaluations" are referenced by the Item number 68 and have a retention period of 1 semester after submitted.
Using this information, fields a through d can be filled out as follows: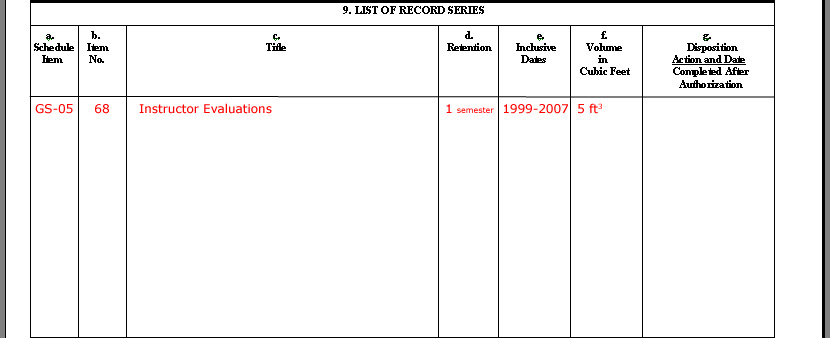 Field e "Inclusive Dates" contains the total range, by year, of the documents in question. The amount above is an arbitrary example. Obviously, this range must be within the respective retention period for that particular item.
Field f contains an estimate of total volume in cubic feet of that item type. In this example, 5 cubic feet is listed. This figure can be found by using the following formula:
Volume = length × width × height (of boxes or documents)
Eg. Standard archival boxes are 10 x 15 x 12" = 1800 in3 *
* This value must be converted to cubic feet (ft3)

Therefore, the box is 1.043 cubic feet in volume. 
Multiply this value by the number of boxes to give the total volume of documents.
 
Eg. 10 boxes = 1.042 x 10 = 10.42ft
This is only an example for converting cubic inches to cubic feet.  If your box has different dimensions, you must calculate the volume of the individual box first. 
If the documents in question contain more than one item type, write them in a list as shown in the example below. Only one item number per type of document is required. Although it is sometimes the case, it is rare that a disposition document will take more than one page.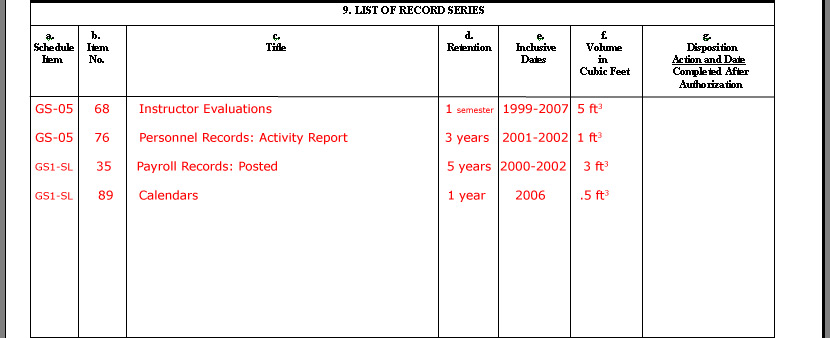 Some useful tips when attempting to find satisfactory descriptions for document types:
Use the "Find" command in Microsoft Word or Adobe Acrobat to perform keyword searches. (for example the word "payroll" or "evaluations")
 
Schedule GS-05 is better suited for describing documents that are academic in nature, while GS1-SL can be used more effectively for general state office documents.
 
If a match proves too difficult to find, you may contact us for assistance.
STEP 4
After the form is completely filled out, it is to be sent to Rose Nicholson GL 460 via campus mail. This will then be signed and sent to The Deputy General Counsel for a signature, then The Office of Internal Audit for another signature, then back to GL 423 for verification.
After this final verification, the disposition document will make its way to the original sender's office. Upon receipt of this signed form, all requested documents may be disposed of. Contact Custodial Services at 305-348-4630 for any questions concerning the actual physical destruction.
When all documents have been destroyed, field g. must be filled out and a verification signature is needed from the sender in Box 11. (See below)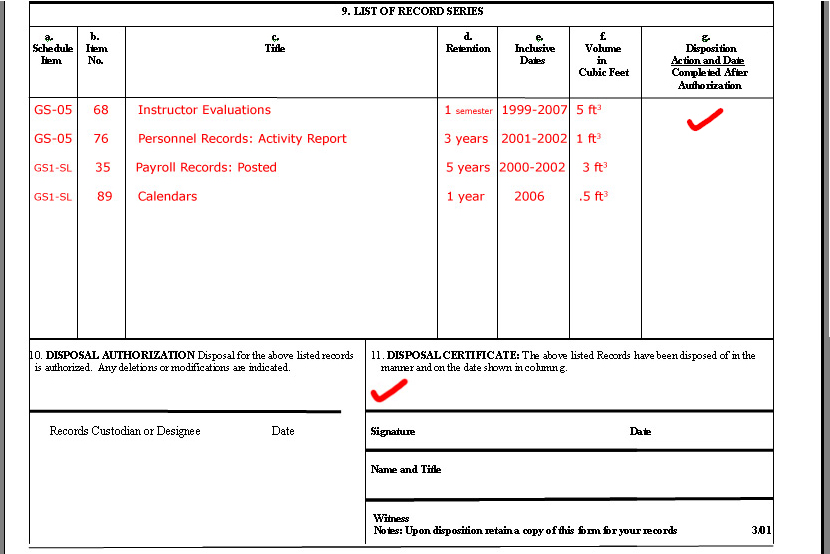 STEP 5
After signature verification by the disposer, this finished document must be sent back to the GL460 for record keeping.
Please direct any questions to:
Rose Nicholson
RMLO/Compliance Coordinator
(305) 348-1377 or rose.nicholson@fiu.edu
OR
Althea "Vicki" Silvera
Department Head, Special Collections and University Archives